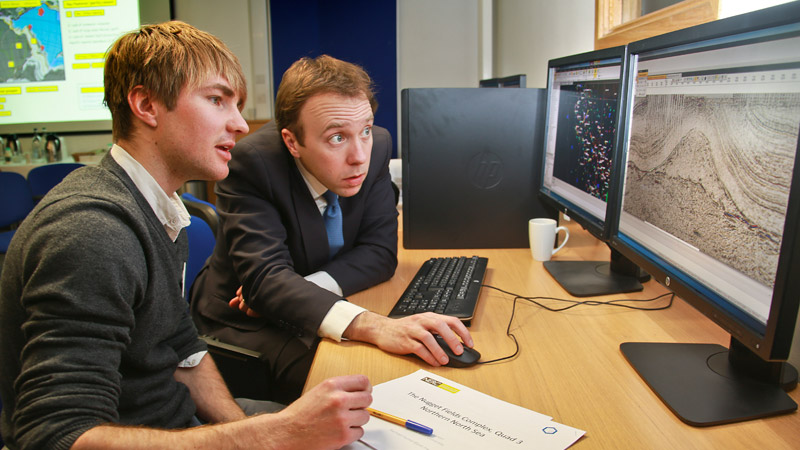 We are delighted to report that Ross Grant, studying at Heriot-Watt University, has been awarded one of three bursaries worth £2,500 by the Society of Petroleum Engineers (SPE).
SPE awarded three bursaries of £2,500 and ten of £500 to students studying a degree relevant to the oil and gas industry at undergraduate, postgraduate or PhD level. Students were required to demonstrate an intention of working in the oil and gas industry on completion of their studies, as well as academic merit and active involvement in the SPE. Awards were made to students studying at Aberdeen, Dundee, Heriot-Watt and Robert Gordon universities.
Ross Grant, pictured in the photo above demonstrating Schlumberger's Petrel software to the UK Minister for Energy, Matt Hancock, is our first Applied Geoscience PhD student to succeed in the SPE awards.
We would also like to congratulate Ginny-Marie Bradley, studying at the University of Manchester, who has been elected Secretary of the local chapter of the American Association of Petroleum Geologists (AAPG). The AAPG Young Professional UK body have supplied mentors for the first cohort of NERC CDT students and are very active in promoting training and networking within the UK oil and gas community. We wish Ginny every success in her new role with the Association.