Bastian Steffens (2017 entry cohort) and Quentin Corlay (2018 entry cohort) have made the prize-winners list for a second year running in a high profile international online programming data/geoscience competition run by Xeek, a platform powered by Shell that hosts competitions for data and geoscientists.  The pair won 2nd place in a competition which saw 78 international teams seeking innovative, fun ways to visualise geoscience data and aiming to build the best model for a prize pot of 15,000 USD.Although both students are based at Heriot-Watt, they had to collaborate remotely from France and Scotland to build their Seismic to flow solution. Their idea was to demonstrate how interactive plotting can help to better communicate 3D porous media flow simulation results. The solutions integrated an agent-based simulator in a graphical user interface. The simulator allows to model the movement of particles inside a 3D environment. This can for example be a seismic cube which is a representation of subsurface. Thanks to the interface, the user can iteratively select the parameters, perform the simulations and interact with the results. Flow pathways of the particles and the accumulation spots provide insightful view of HC migration and accumulation.

Bastian and Quentin said: "It was a great experience, lot of fun. These contests offer the opportunity to realize an idea from a simple discussion, implement it and share it on a very short period. We encourage anyone willing to participate to have a go."
More information about the competition and other winners can be found on the Heriot-Watt website at https://www.hw.ac.uk/news/articles/2021/competition-win-for-the-institute-of.htm.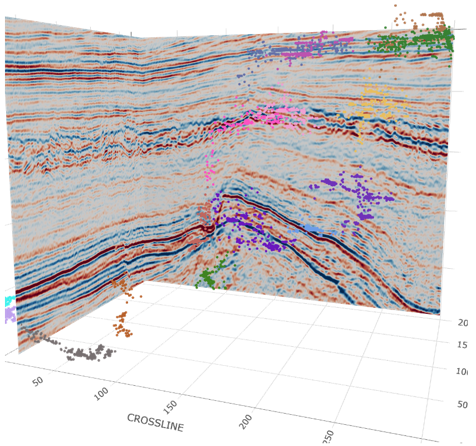 Image from the winning model to detect the accumulation of particles