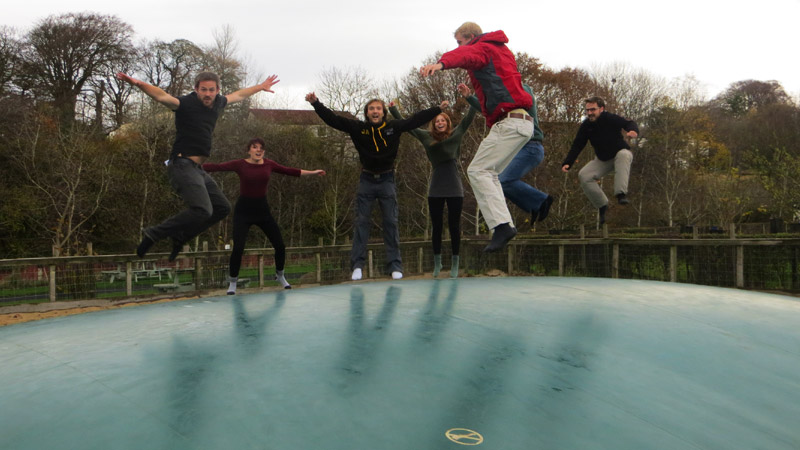 The first two weeks of November have seen the CDT students undertake their first tailored training module, based at Heriot Watt University. Entitled "Environmental Impact and Regulation", the students have received over 50 informative key note talks from experts in their field, followed by equally informative and lively question and answer sessions. The students proved beyond all doubt their ability to contemplate, question and debate professionally and intelligently the subjects of each talk.
Topics covered included an overview of unconventional energy resources and the challenges related to their extraction and use, their context with regards the environment and national energy security. Numerous case studies from around the globe introduced them to the complex issues and considerations surrounding all aspects of oil and gas exploration, production and decommissioning. The importance of high safety standards and mitigation against potential dangers and pitfalls was a continuing theme throughout the course.
The students also enjoyed three days away from the lecture theatre. During the first week of the module two days of talks and activities were provided by the Offshore Site and Investigation Group at the British Geological Survey at Murchison House in Edinburgh, while during week two the students visited The Museum of the Scottish Shale Oil Industry in Livingston and INEOS refining facility at Grangemouth.
The Museum of the Scottish Shale Oil Industry provided a fascinating insight into the industrial heritage of the Midland Valley and demonstrated how Scotland contributed hugely to growth of the modern day oil and gas industry. The adjoining Almond Valley Heritage Centre facilities also provided some much needed light relief for the students after a period of such hard work. The visit to INEOS at Grangemouth was a fascinating opportunity to undertake a rare full site visit to Scotland's only crude oil refinery, allowing the students to learn about the site history and present day function before embarking on a guided bus tour of the huge refinery complex.
The breadth of topics covered in such a short space of time combined with the ability for the students to question and discuss all aspects of the training module has generated an invaluable learning opportunity for all involved.
The next training module, on the theme 'Extending the Life of Mature Basins' will take place in Manchester in Spring 2015, combining a further lecture series with fieldwork in the beautiful Peak District National Park.