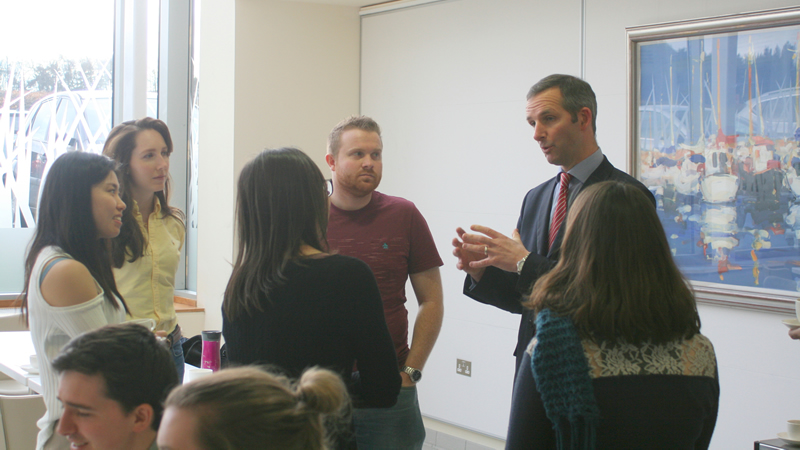 The 2015 cohort returned to Heriot-Watt in mid-February for the second module in their year 1 training programme. An Introduction to Geology session was held at the Dovecot Tapestry Studios in Edinburgh City Centre, hosted by Andy Bell, regional team leader, Global Geology Research and including a 'treasure-hunt' to identify various stones used in the city's building.
The day prepared the students from a variety of disciplines for the intensive one-week course on Petroleum Basins Analysis which followed at Heriot-Watt University, again led by Andy Bell together with a recently retired colleague from Shell, Erdem Idiz, who is now a Visiting Professor at the University of Oxford.
The lecture and group exercise format of the Petroleum Basins Analysis course again proved popular with students from all disciplines and the final licence bidding competition was hotly contested. On the penultimate day of the course, the CDT students welcomed Liam McArthur, MSP for the Orkney constituency and Neil Kermode, Managing Director of the European Marine Energy Centre (EMEC), based at Stromness on the island. EMEC is the first and only centre of its kind in the world to provide developers of both wave and tidal energy converters – technologies that generate electricity by harnessing the power of waves and tidal streams – with purpose-built, accredited open-sea testing facilities. Both men expressed great interest in the CDT model and the collaborative research and training being undertaken. Mr McArthur, who also chairs the Cross Party Group on Renewable Energy and Energy Efficiency, said "I enjoyed meeting the post graduate students involved in joint research, which will be critical to the future of our energy sector. From all parts of the world and studying at universities across the UK, it was encouraging to see how well they are working together to identify ways in which this key sector can develop in the decades to come."
The final event of the course was the Young Professional (YP) Mentor Networking event which provided an opportunity for 12 YP mentors to meet their new mentees and enjoy talks from Mark Burchell, recently retired from BP entitled Developing an Oil & Gas Field – Many Questions…. always far fewer answers!' and John Underhill, the CDT's Academic Director, on 'Between a Rock and a Hard Place: Exploration Geoscience and the Energy Challenge'. This was followed by a frank, and at times very personal, Q&A session with Mark and John about their individual career decisions and views on the future of the oil and gas sector in the current economic and geopolitical climate.
To round off the day, students, mentors and presenters went into town to test their wits and team-working skills at two different 'Escape the Room' events, one involving a diamond heist and the other a purported selection process to become an MI6 agent, before earning a well-deserved pub meal.