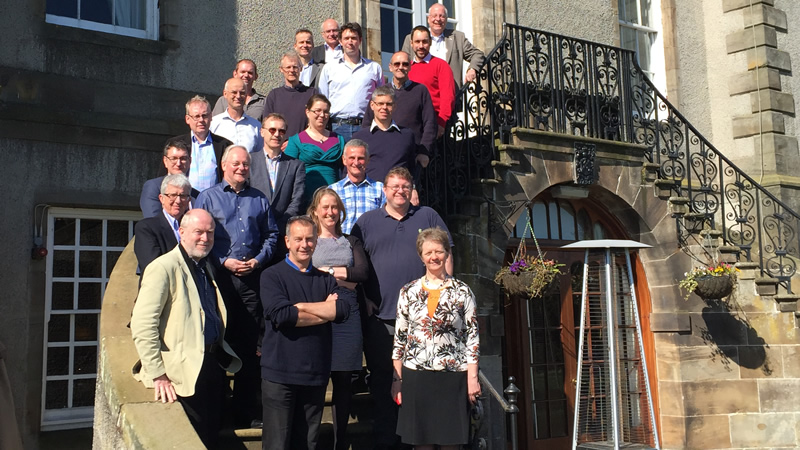 Twenty representatives from all 7 core academic partners, 8 associate partners and 5 industry partners met for a two day workshop on 20/21 April at the Dalmahoy Hotel near Heriot-Watt's Riccarton campus on the outskirts of Edinburgh.  This was an opportunity for the CDT partnership to review the operation of the NERC CDT research and training model since its launch in October 2014 as well as discuss options and strategies for renewal beyond the fourth cohort entry date of October 2017.
The CDT's Director, Prof John Underhill, kicked off proceedings with a presentation on the background to the instigation of the NERC CDT and a review of its successes to date.  The Chair of the CDT's Training Academy Committee, Prof Andy Aplin, also gave a presentation on the second morning covering the training provision to date as well as the proposed schedule for the rest of 2016 and into 2017.  The majority of time was devoted to group sessions and feedback to allow everyone's views to be shared.  The composition of the groups was altered for each session which covered strengths, weaknesses, opportunities and threats to the CDT, funding model and internationalisation options, the training programme and strategies for re-commissioning.
Our thanks go to the Dalmahoy staff for their excellent care and attention to detail during our stay.  That, the weather and the good company ensured that much positive energy was generated within the partnership which sets it on a firm footing for renewal.