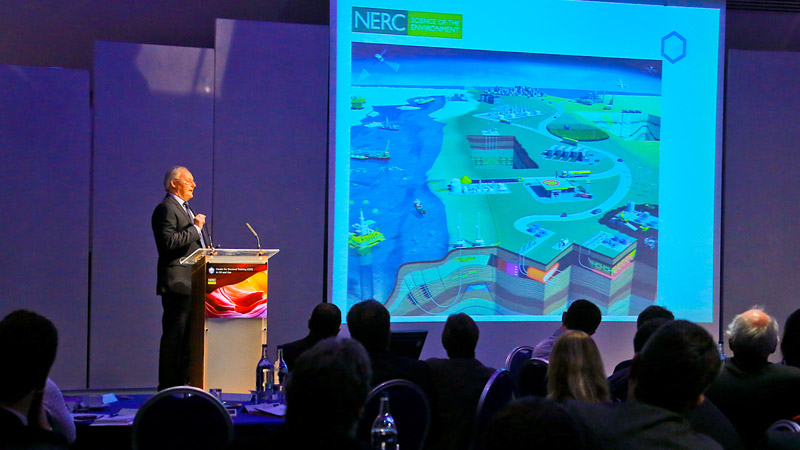 A £9m Centre for Doctoral Training, which combines the very best of academic and industrial expertise to train and mentor the next generation of skilled geoscience and environmental researchers in oil and gas, has been officially launched at Heriot Watt University's Edinburgh Campus.
The Centre, which involves seventeen UK universities, the British Geological Survey, the National Oceanography Centre and nine industry sponsor companies, is a £9M investment funded by £2.7m from NERC, £5.3m from the host higher education institutions and with over £1m already pledged by the nine industry sponsor companies.
With over 100 people in attendance, the launch event allowed the CDT students unprecedented access to and understanding of the key issues surrounding oil and gas, both now and in the future. This was achieved through a series of talks from top academics and industry representatives, interspersed with networking opportunities for this year's cohort of 29 students. This will rise to 93 students over the next 3 years.
The CDT affords the opportunity for postgraduate students to base their studies at their respective institutions but spend periods during their four year PhD courses undertaking bespoke modules delivered by academic and industry experts as part of a unique Training Academy.
A number of the students expressed their appreciation of being part of the CDT, commenting on what a great experience the launch event was in broadening their perspective and bringing them up to date on current issues – 'very impressive selection of speakers we are able to interact with' and 'such a good experience that I feel privileged to have joined the CDT'.
Professor John Underhill, Academic Lead for the NERC CDT in Oil and Gas, and Shell Professor of Exploration Geoscience at Heriot-Watt University, said, "I am delighted that the vision for training and research encapsulated by the CDT in oil and gas has been supported and endorsed by the Research Council, Government, Industry and Academics alike.
"It provides a unique opportunity to undertake and contextualise oil and gas research and training to address the energy challenge to keep the lights on whilst respecting and addressing any environmental impact it has."
Keith Gerdes, Chair of NERC's Advisory Board and American Association of Petroleum Geologists' European Region President, added, "The CDT is a truly game-changing initiative, which represents the most exciting development in the provision of training the energy industry in the UK that has occurred in my career."