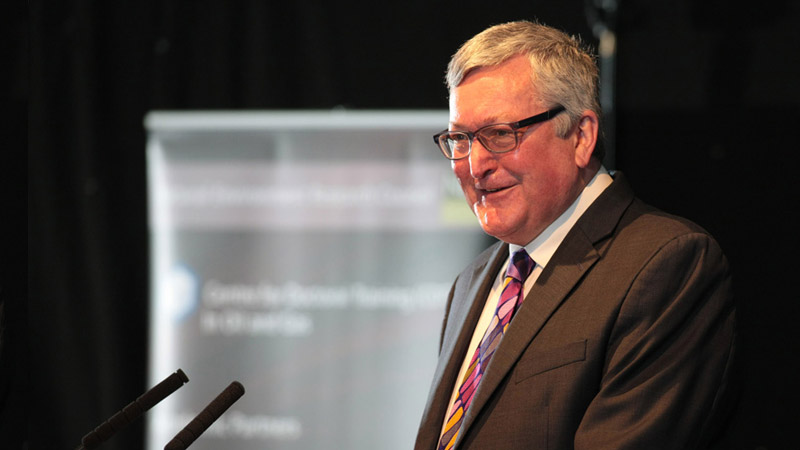 The NERC Centre for Doctoral Training (CDT) in Oil & Gas held its annual conference on November 2nd 2015 at Heriot-Watt University. The conference was opened by the University's Principal, Prof. Williams, the Scottish Minister for Energy, Business and Tourism, Fergus Ewing MSP, and NERC's Director of Science & Innovation, Dr Ian Gillespie.
Over 130 delegates from industry, government and the seventeen CDT academic partners, including the incoming student cohort of 31 students, were given an overview of the current and future challenges in the oil and gas sector by representatives from BP, Shell and the Oil & Gas Authority in a morning session.
Fergus Ewing, MSP, said "The Scottish Government is committed to a sustainable future for the oil and gas sector in Scotland and to working in partnership to secure the total value added for the economy, the industry and society. What the NERC CDT in Oil and Gas brings to this agenda is a huge academic contribution to drive the future of the industry with focus on its place in, and interaction with, the environment. This is a great example of collaboration and cooperation between academia, industry and the public sector – developing our formidable technical expertise and a stream of skilled people to support the industry."
The afternoon was devoted to presentations by the 2014 entry PhD student cohort to showcase the results of their first year of research. Their topics cover environmental science, geoscience, statistics, biology and engineering but all are linked to one or more of the four CDT research themes; Environmental Impact & Regulation, Unconventional Hydrocarbons, Extending the Life of Mature Basins and Exploration in Challenging Environments. Each student had two presentation slots and posters were on display in the conference foyer throughout the day, thus giving delegates ample opportunity to view and discuss research with the students directly.
An industry delegate wrote to say 'I found it a very positive and energising event and your students are really very good, showing great knowledge for 1st year PhD's.'
The conference dinner was preceded by an address from the Chair of the CDT's Industry Advisory Board, Prof. Keith Gerdes, who extolled the CDT's virtues and highlighted the many achievements in the first year of its operation.
The post-dinner ceilidh proved a huge hit with students and delegates alike and was a great way for the presenting students to relax and shake off the nerves of what had been for many their first presentation at a professional external event. It also proved an excellent opportunity for the incoming cohort to meet one another as well be introduced to the wider CDT community.
The NERC CDT Academic Director, Prof. John Underhill, said: 'It was tremendous to see the depth, breadth and quality of academic research being undertaken in the four research themes in the 17 degree-awarding Higher Education Institutes.  That, together with the calibre of the speakers, delegates and guests, not only made the CDT Annual Conference the great success it was, but also the perfect way to welcome the new CDT student cohort to this combined model of research and training.'