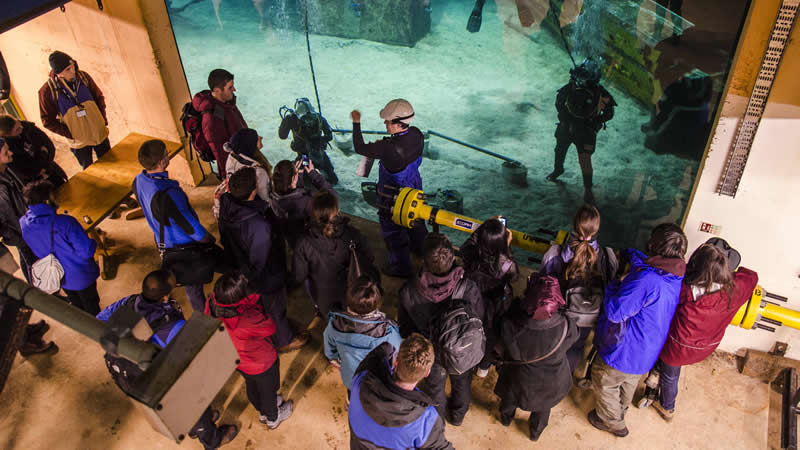 The first two weeks of November have seen the new 2015 cohort of CDT PhD students undertake their first tailored training modules, based at Heriot Watt University. The students were introduced to the CDT community at the Annual Conference, which was followed by a two-day Induction course giving a half-day session to each of the CDT's four research themes. The students then progressed to the first of the focused research theme modules addressing Environmental Impact and Regulation (EIR).
The course format was primarily lecture-based with students treated to informative key note talks from 20 experts from academia, industry and the regulatory authorities. The programme also included an afternoon computer lab session to give students an understanding of different analytical techniques and uses of environmental data. Case studies from around the globe introduced the cohort to the complex issues and environmental considerations surrounding all aspects of oil and gas exploration, production and decommissioning. The importance of high safety standards and mitigation against potential hazards and pitfalls was a continuing theme throughout the course.
The students also enjoyed two days away from the lecture theatre on a visit to the Underwater Centre near Fort William. Despite their visit coinciding with the first named storm to hit the UK in 2015, Abigail, the students and Centre staff braved the elements out on the pier as well as sheltering by the indoor demonstration pool in order to participate in a highly practical introduction to the methods and techniques employed by diving and ROV (Remotely Operated Vehicle) specialists in subsea operations.
The Underwater Centre visit allowed the CDT students to gain a heightened understanding of the economic and operational realities of data collection, monitoring and technical capabilities in the offshore realm.
The breadth of topics covered in such a short space of time combined with the ability for the students to question and discuss all aspects of the training module has generated an invaluable learning opportunity for all involved.
The cohort returns to Edinburgh in early February 2016 for an Introduction to Geology one-day event followed by a 5-day course on Petroleum Basins Analysis led by staff from Shell Global Solutions.