We are delighted to congratulate two NERC CDT in Oil & Gas PhD students, Quentin Corlay and Bastian Steffens, of Heriot-Watt University's Institute of GeoEnergy Engineering's (IGE) GeoDataScience and Uncertainty Quantification Group, on winning the first prize of $9,000 in an international online programming data/geoscience competition.
Agent-based models are often used to understand the behaviour of complex natural systems, like the flocking behaviour of starlings, the financial markets or the spread of diseases through discrete movement of agents following only a few simple rules.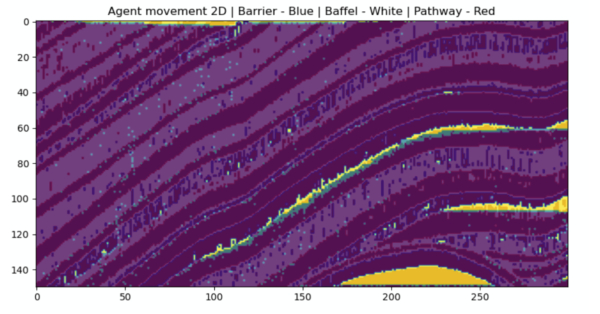 Snapshot of an animation showing the migration of hydrocarbon molecules (agents in yellow and green) through different rock layers and structures in the subsurface.
The goal of the competition was to build an agent-based model that mimics hydrocarbon movement through different rock layers and structures to identify pathways and accumulations zones in the subsurface.
The challenge was organized by Xeek – a platform powered by Shell that hosts competitions for data and geo-scientists – and had a total of 71 competing teams aiming to build the best model. The final model was evaluated on several unknown datasets and scored based upon similarity to the truth case, realistic movement of hydrocarbon molecules through the geological environment, the speed of the code, its universal applicability and the visualisation of the final results.
Bastian, a 3rd year PhD student said: "A great opportunity to give yourself a little break from the PhD and work on a different problem in a team. Even more exciting if the effort you put in eventually gets appreciated."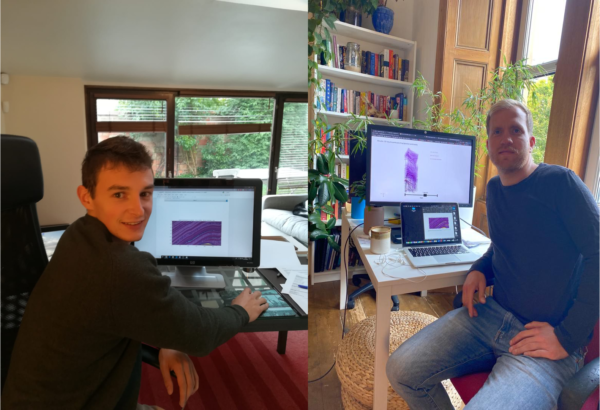 Quentin Corlay                                                 Bastian Steffens
Quentin, a 2nd year PhD student, said: "Working on challenging problems, seeking for innovative solutions in a very short period of time stimulated by competition and interaction with other participants is really a great way to learn new skills."
Associate Professor Daniel Arnold said: "To win this award, competing against 71 other excellent teams from academia and industry worldwide and in their spare time, is a fantastic achievement for Quentin and Bastian. We are really pleased and proud for them both and it shows high calibre of talent at Institute of Geoenergy Engineering. Our thanks must go to the NERC CDT in Oil and Gas and the National Productivity Investment Fund (NPIF), who sponsor their PhD's and without whom this collaboration would not have happened."
Professor John Underhill, the Academic Director for the NERC Centre of Doctoral Training (CDT) in Oil & Gas said "Many congratulations to Bastian and Quentin. It is a tremendous accolade for them personally and is a testament to their dedication and commitment. To have won this award during the pandemic when there extra challenges through remote working and social distancing makes their achievement all the more remarkable. It is an honour to have such talented individuals on the NERC CDT in Oil & Gas".
To find out more about the competition, and to have a go yourself, visit https://xeek.ai/challenges/go-with-the-flow/overview.
More details about the NERC CDT in Oil & Gas may be found at: https://nerc-cdt-oil-and-gas.ac.uk/.