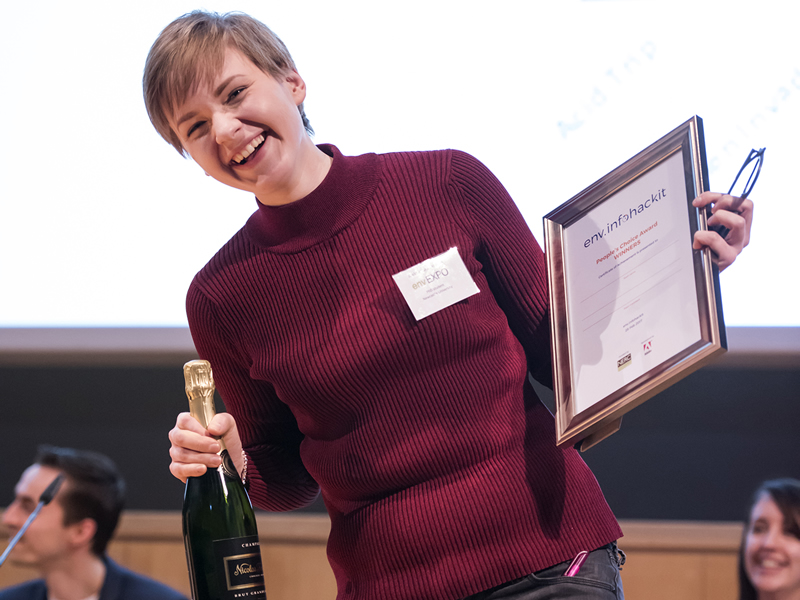 Alex Svalova, a CDT student in the 2014 cohort studying at the University of Newcastle, is in a winning groove as she has been chosen to showcase her research at the UK parliament in Westminster on 13th March as part of the STEM for BRITAIN programme.
Alex is joining 5 other PhD students in Science, Technology, Engineering and Mathematics (STEM) and will be presenting on her research title 'Ultrasound spectrometry of the aggregation of asphaltenes during the formation of water-in-oil emulsions' which uses petroleum chemistry to further understanding of how water and oil interact with the ultimate aim of improving the clean-up of oil spills.
The previous week, Alex represented her team-mates, Luke Holman, a first year PhD student in the NERC-funded Doctoral Training Partnership (DTP), Southampton Partnership for Innovative Training of Future Investigators Researching the Environment (SPITFIRE) and freelance graphic designer, Mike Hill, at the UK final of Infohackit. Alex and her team had already won the Manchester regional heat of a one day hackathon which saw students from different NERC funded doctoral training schemes choose a message and an audience and translate that into eye-catching, informative graphics. Other regional finals took place in Southampton, Plymouth, Birmingham and Norwich.
Alex's team title was Brain Over Prawn, and they set out to inform the UK prawn-buying public about the ethical sourcing of these shellfish. The team won not only the Judges' prize, but also the People's award based on the votes of delegates at the EnvEXPO 2017 conference and workshop. Infohackit and EnvEXPO 2017 were the product of the first collaborative bid by five of NERC's DTP and CDT partnerships to establish training opportunities that would attract students from life and earth sciences, engineering and computing backgrounds to work together and learn new transferable communication skills.