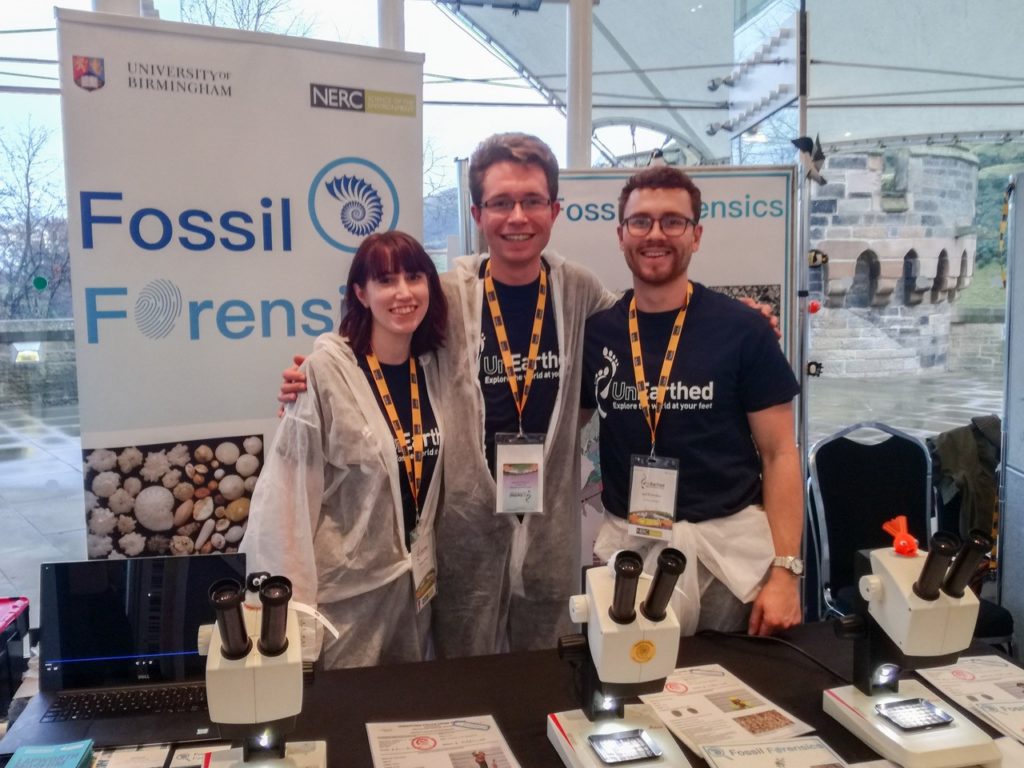 University of Birmingham CDT students Jonathan Hall and Jack Richardson, and geology graduate Rebecca Walley travelled to Edinburgh in mid-November (17-20th) to showcase Fossil Forensics at the NERC's annual science public engagement event, this year titled UnEarthed.
Created by Jonathan, Fossil Forensics is an interactive and engaging exhibit, whereby visitors use their inner detective to solve a fictional mystery crime (dinosaur bone smuggling) using sediment and microfossil evidence collected from three suspects. By comparing the evidence to geological maps, participants can retrace the movements of the different suspects and guess the perpetrator. This practical exhibit aims to promote the wider application of geoscience and involves visitors learning to use microscopes to analyse the different sand and microfossil evidence.
After a competitive application process, including interviews and an elevator pitch, Fossil Forensics was selected to be one of 21 exhibitors at this prestigious event, alongside larger organisations including the British Geological Survey, British Antarctic Survey and the Centre for Ecology and Hydrology. £3k of joint funding was successfully secured from the University of Birmingham and NERC, to finance materials, travel and subsistence.
Based in the Dynamic Earth museum in the centre of Edinburgh, the four-day showcase attracted more than 7000 visitors, including local schoolchildren, families, community groups, tourists and governmental policy makers; the popularity of this science festival was affirmed when museum waiting times exceeded two hours on multiple occasions throughout the weekend. This event also gained substantial media coverage with segments recorded for the BBC and STV, and related articles published in national newspapers.
Jack Richardson also recorded a video to capture their experience, which can be viewed at https://www.youtube.com/watch?v=FyIBG2mha7
Although physically demanding, this science festival was great fun and enabled all involved to develop their team work, public engagement and science communication skills with such a large and demographically varied audience. Support and coaching from NERC's public engagement team, alongside internal guidance from Carl Stevenson and Caroline Gillett, was invaluable to the success of Fossil Forensics. Jack delivered a package of high-quality media products for both social media and future promotion (links to his videos can be viewed on Twitter: @geology_bham). Future plans to showcase Fossil Forensics are in the pipeline, providing students with an interest in public engagement the opportunity to participate and gain valuable experience.