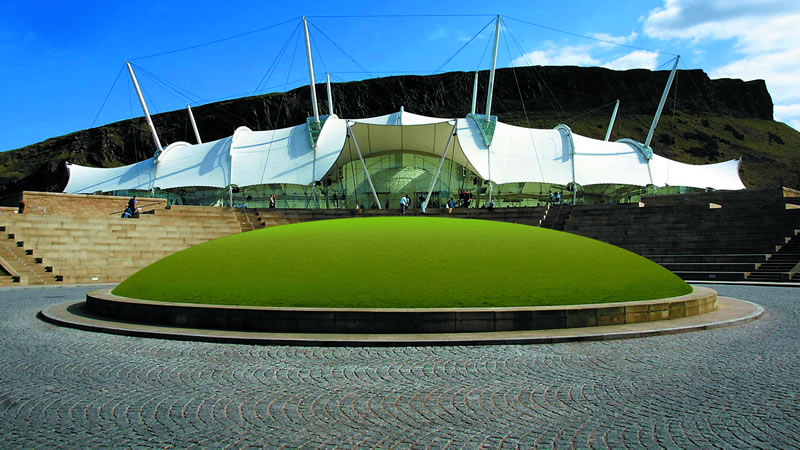 This year's CDT Annual Conference took place on Friday 3 November 2017 at Our Dynamic Earth in Edinburgh's city centre, our first move off-campus in order to accommodate all four annual entry student cohorts and our invited guests as the CDT reaches its full strength.
The conference was opened by Paul Wheelhouse, MSP and Minister for Business, Innovation and Industry and featured key note speeches from Chris Stark, Head of the Energy Directorate for the Scottish Government, Dr Nick Richardson, Head of Exploration and New Ventures at the Oil & Gas Authority, Dr John Clayburn, Head of Exploration and Development at Cairn Energy plc and Professor Iain Stewart from the University of Plymouth.
110 CDT students from four entry cohorts, 2014 – 2017, were in attendance along with 75 delegates from industry, government, regulators and academia.  Nineteen students from the 2014 cohort gave oral presentations of their research results and a further 62 students from the 2015 and 2016 entry cohorts demonstrated their work in poster format.
We were delighted that the CDT's Academic Director, Professor John Underhill, was able to announce at the conference the decision of the Geological Society to accredit the CDT's Training Academy Programme which gives CDT students a fast-track route to Chartered Geologist status.
It was a very busy day with wide-ranging discussions spilling over into the evening dinner and ceilidh which brought the day to a stirring and suitably celebratory finale
Our thanks go to all the students who contributed so successfully to provide such an impressive showcase of their research, to the staff at Dynamic Earth, the ceilidh band and to all our 2017 Conference delegates for their interest in, and enthusiasm for, the work of the CDT's early career researchers.