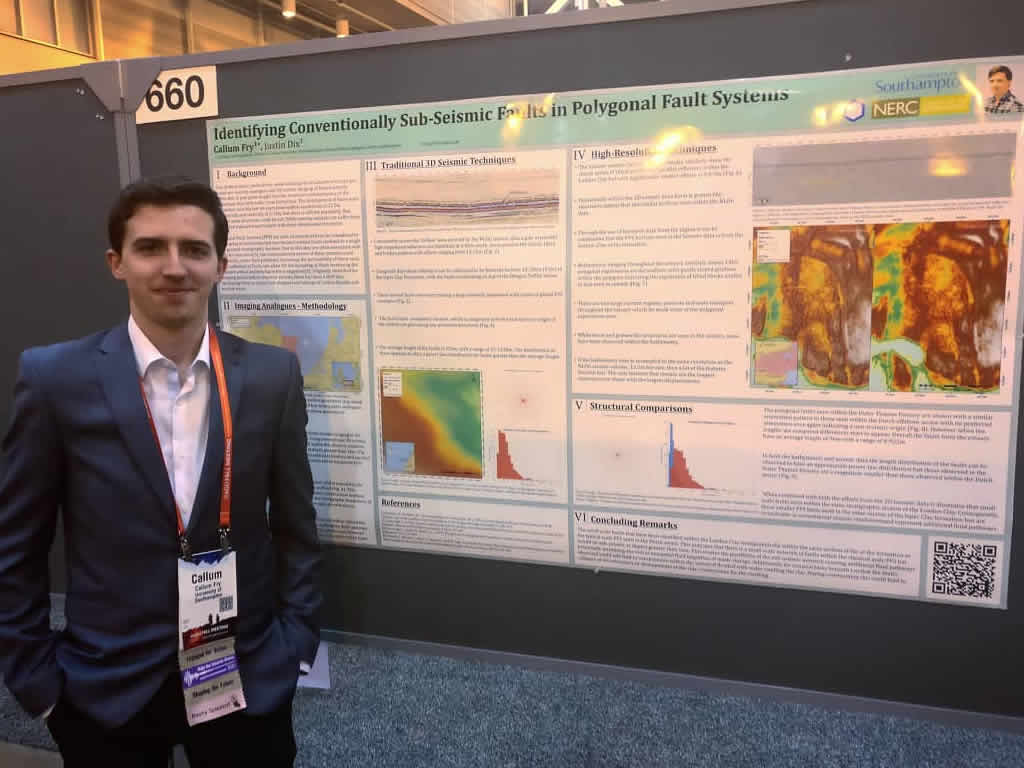 NERC CDT Oil and Gas student Callum Fry won an Outstanding Student Paper Award in the seismology focus group at the American Geophysical Union (AGU) Fall Meeting for his presentation about his work on Polygonal Fault Systems (PFS).
The word's largest earth and space science meeting with over 22,000 attendees recently took place in New Orleans, Louisiana. There were more than 20,000 posters and presentations over the five-day conference and volunteer judges assessed student presentations with the top 3-5% within each research focus group selected to receive the Outstanding Student Paper Award.
Polygonal Fault Systems
Prevalent in sedimentary basins globally PFS are commonly associated with caprocks for reservoirs and represent potential fluid pathways. Characterization of these pathways is subject to the limitations of conventional 3D seismic imaging; only capable of resolving features on a decametre scale horizontally and metres scale vertically. While outcrop and core examples can identify smaller features, they are limited by the extent of the exposures.
The London Clay, a continuation of the Ieper Clay where PFS were first identified, outcrops at the seafloor in the Outer Thames Estuary. Through the use of high resolution 1m bathymetric imaging and high resolution seismic imaging, direct measurements of PFS outcrops could be obtained. Comparing these measurements to a conventional 3D seismic volume of the Ieper Clay from the offshore Dutch sector found that the structures were typical of global PFS examples. However, within the Thames Estuary the faults were identified to be a magnitude smaller, with lengths and displacements that would be sub-seismic using conventional methods. This indicates that the sub-seismic faults exist within the deeper counterparts and represent additional fluid pathways through caprocks that would be invisible using conventional technologies. Potentially influencing fluid migration and changing reservoir geometries for both hydrocarbon basins and carbon capture systems.